Thaism
278 Smith Street, Brooklyn, NY 11231
Order now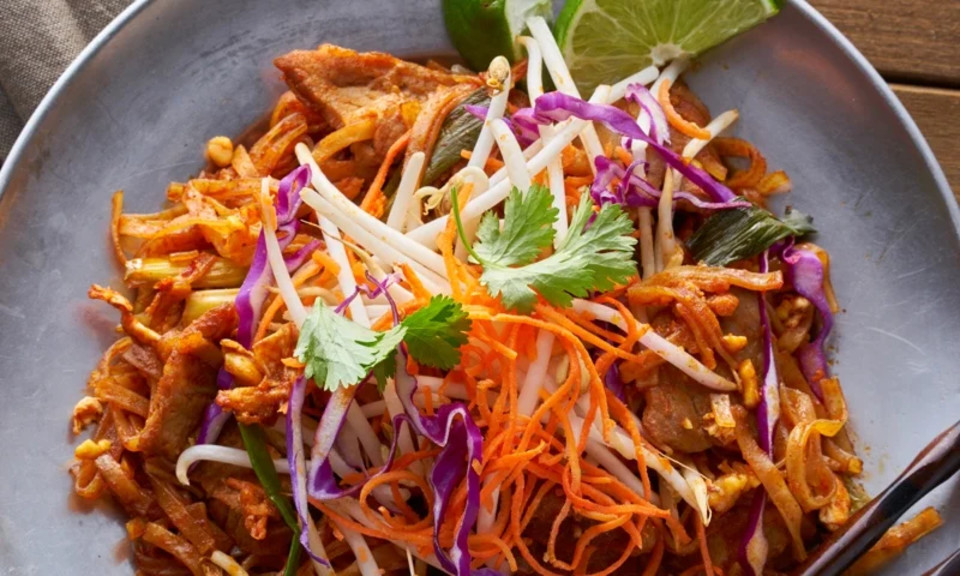 Sharon
The food was excellent! I ordered the Sesame fried vegetarian rice with the always delicious curry puff and side salad w/mango Thai iced tea. The rice was very flavorful with a nice amount of veggies, the salad was fresh with a nice dressing which had a little "kick" to it and the curry puff was deliciously light and crispy! My order was ahead of time and the food still nice and hot when received. I will order from here again!
Erik
Good Thai food. My favorite Thai place to order from in the area. The only thing I could criticize, as I could with all Thai places in the US so far, is that "spicy" or "very spicy" is never actually Thai-like spicy. But I know I'm a bit of an exception when it comes to spice, since most Americans are babies that need their milk when they touch a pepper.
Jim
Thaism is new go-to for delivery! Ive tried the Pad Thai and the Peanut Curry so far and both were excellent. Also, maybe the best duck Ive had from a take-out place. Im looking forward to trying more dishes!
Eugene
Love this place! I appreciate all the vegetarian options and the food it yummy. I always go for the pad thai and spring rolls.. The deluxe vegetarian appetizer assortment is a great value too!
Christian
Hands down the best Thai food in this part of Brooklyn. Food is always delivered piping hot, we usually have to let it cool before we can even eat it. Drunken Udon is on another level.
jenny
Lunch special portions were just right for lunch; smaller than lunch specials from other places but ok for personal portion control. Veg dumplings appetizers were whatever, Thai basil was good (and very spicy!). They added green peppers to the dish which was weird and the whole thing was a bit greasy. Nonetheless would order again because I liked the flavor. Drunken noodles were just the right amount of spiciness. Taro wonton appetizers didn't taste like much. Overall decent place to order Thai for lunch.
Aasheekaa
I love my spicy food and good Thai in NY is tricky.
I ordered:
Green curry with vegetable duck
Glass noodles with tofu
Tom yum

All dishes were good. The noodles are a bit dry so best ate with something.
I asked for the green curry to be spicy (in my comments) and they did a good job with that!

My new go to Thai spot in Downtown BK!
-also, they delivered quicker than estimated and order was accurate.
Shayne
This restaurant always serves delicious Thai food. They always deliver on time, and I have never had a problem with incorrect orders or anything like that. I really really recommend the Pad See Ew and the crispy dumplings. The Thai ice tea and ice coffee are both delicious as well. Honestly, Ive never had a meal from this restaurant that I didnt like.
DAVID
this place RULES... definitely the best Thai option in the neighborhood.

all these dumbasses are complaining that their food took X amount of time... this place delivers TWO MILES from the restaurant on BICYCLES... Be thankful instead of being a jerk off... Or move back to Nutley, New Jersey-- or whatever godforsaken hellhole that you came from.
Malcolm
The very good people who work at Thaism are very knowledgeable and honest about the ingredients of the food they serve. I really appreciate that. The food is fresh and delicious. When there has ever been a problem, they have resolved it quickly and professionally. The management might need more staff for busy times. New favorite Thai food!
About us
Alcohol, Asian, Dinner, Lunch Specials, Noodles, Thai
Today

Delivery: 5:00 PM - 10:45 PM

Takeout: 5:00 PM - 10:45 PM

Delivery

Monday:

12:00 PM - 4:15 PM

Tuesday:

12:00 PM - 4:15 PM

Wednesday:

12:00 PM - 4:15 PM

Thursday:

12:00 PM - 4:15 PM

Friday:

12:00 PM - 4:15 PM

Saturday:

12:00 PM - 4:15 PM

Sunday:

12:00 PM - 4:15 PM

Takeout

Monday:

12:00 PM - 4:15 PM

Tuesday:

12:00 PM - 4:15 PM

Wednesday:

12:00 PM - 4:15 PM

Thursday:

12:00 PM - 4:15 PM

Friday:

12:00 PM - 4:15 PM

Saturday:

12:00 PM - 4:15 PM

Sunday:

12:00 PM - 4:15 PM